About Michael R. Stavnicky
Prior to joining this firm, Mr. Stavnicky practiced with the Cleveland law firm of Conway, Marken, Wyner, Kurant & Kern.
Mr. Stavnicky graduated summa cum laude with a B.S. from Ohio University in 1991. At Ohio University, Mr. Stavnicky was a member of the Golden Key National Honor Society, Phi Kappa Phi and Phi Eta Sigma academic honor societies.  He attended Law School at Cleveland State University where he earned his J.D., cum laude, in 1994.  He was a member of the law review at Cleveland-Marshall and was awarded the American Jurisprudence Award. Mr. Stavnicky is also a member of the Multi-Million Dollar Advocates Forum.  Established in 1995, the Multi-Million Dollar Advocates Forum is one of the most prestigious groups of trial lawyers in the United States.  Membership is limited to attorneys who have successfully acted as lead counsel in cases in which their clients receive a verdict, decision, or settlement in excess of two million dollars. Mr. Stavnicky is rated BV® Distinguished™ by Martindale-Hubbell.
Mr. Stavnicky focuses his practice on complex commercial litigation, including the areas of real estate, closely-held business, contract, fraud, banking, commercial landlord-tenant, and construction.  He has practiced at all levels, including at trial, on appeal and before the Ohio Supreme Court.  Mr. Stavnicky has represented clients in local, state and federal court. Additionally, he is experienced in private, state and federal mediation and arbitration.  In his practice, he is experienced in both plaintiff's side and defendant's side litigation.  Mr. Stavnicky also counsels clients in the avoidance of litigation and the benefits of negotiated settlement.  He has taught and spoken on litigation topics, including at the 2016 Real Estate Institute.
Mr. Stavnicky is a member of the Cleveland Metropolitan, Ohio State, Geauga County and American Bar Associations.
Fraternities/Sororities: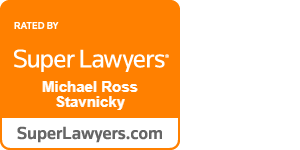 Professional Associations & Memberships
Cleveland Metropolitan Bar Association, Member
Geauga County Bar Association, Member
Ohio Bar Association, Member
American Bar Association, Member
Chagrin Valley Chamber of Commerce, Member
Kidney Foundation, Board of Directors
Honors/Awards
BV® Distinguished™ Martindale-Hubbell
Golden Key National Honor Society
Phi Kappa Phi
Phi Eta Sigma
Recipient, American Jurisprudence Award
Cleveland Marshall Law Review
Representative Cases
Niederst v. Niederst, 2014 WL 2566083 (Ohio App. 8th Dist.), 2014-Ohio-2406
Riser Foods Company v. Shoregate Properties, LLC, 2011 WL 3921850 (N.D. Ohio)
Strip Delaware L.L.C. v. Landry's Restaurants, Inc., 2011 WL 3587455, 2011-Ohio-4075, Ohio App. 5 Dist., August 15, 2011 (NO. 2010 CA 00316)
Strip Delaware, L.L.C. v. Landry's Restaurants, Inc., 011 -Ohio- 4075, Ohio App. 5 Dist., August 15, 2011 (NO. 2010 CA 00316)
Strip Delaware, L.L.C. v. Landry's Restaurants, Inc., 191 Ohio App.3d 822, Ohio App. 5 Dist., December 27, 2010 (NO. 2010CA00092, 2010CA00121, 2010CA00146)
Apex Radiology, Inc. v. F&S Apex, LLC, NO. 1:08CV1406, 2008 WL 5110812 (N.D. Ohio)
In re GMS Mgt. Co., Inc. v. Unpaid Court Costs, Fees & Delinquencies, 187 Ohio App.3d 426, Ohio App. 7 Dist., May 14, 2010 (NO. 09 MA 169)
Stark Commons Ltd. v. Stein Mart, Inc., 2004 WL 2939385 (Ohio App. 5 Dist.), 2004-Ohio-6 (Ohio App. 5 Dist. 2004)
State ex rel. Curtin v. Indus. Comm., 86 Ohio St.3d 581 (1999)
Kilroy v. B.H. Lakeshore Co., 111 Ohio App.3d 357 (1996)
22 Exchange, LLC v. Exchange Street Associates, LLC, 2015-Ohio-1719 (Ohio App. 9th Dist., 2015)
Leight v. Osteosymbionics, LLC, 2016 WL 19350111 (Ohio 8th Dist. 2016)