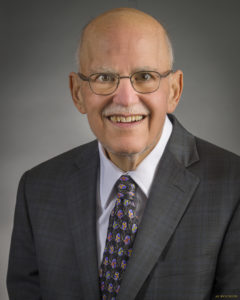 It is with great sadness that we remember our colleague, Samuel S. Pearlman, who passed away on February 6, 2018.  Sam attended the University of Pennsylvania and the University of Pennsylvania Law School, where he graduated magna cum laude, was a member of the Order of the Coif, and was an Editor of the University of Pennsylvania Law Review.  Sam received many accolades in his professional career, including being listed in:  The Best Lawyers in America for more than 20 years; Chambers USA:  America's Leading Business Lawyers since its founding; and Law & Politics magazine's annual list of Ohio Super Lawyers.  Sam was the 2014 recipient of the "Bob Rosewater Memorial Award for Meritorious Service to The Real Estate Section of the Cleveland Metropolitan Bar Association" for being an expert and leader in his field, having extraordinary commitment to the bar association, and for his service to the community.  He was honored in 2016 by the Cleveland Metropolitan Bar Association for having practiced law for 50 years.
Sam's practice consisted of commercial real estate transactions, real estate and other business loans, private equity investments, business mergers, acquisitions and divestitures and joint venture and limited liability companies.  Sam served as chair of the Securities Law Section of the Cleveland Metropolitan Bar Association and was a frequent speaker and panel moderator at legal seminars and before business and educational groups.  For five years Sam taught the course "Modern Real Estate Transactions" at Case Western Reserve Law School and also served for many years on the advisory committee of the Ohio Division of Securities.
Sam was a founding shareholder of Berick, Pearlman & Mills Co., L.P.A. in 1986 and was a partner at Squire, Sanders & Dempsey LLP for nine years.  He joined his colleagues at our Firm in 2008 where he continued to work part-time as of counsel and served as a mentor to young associates.  Sam was "one of a kind" and will be sorely missed by everyone who had the pleasure of knowing him.