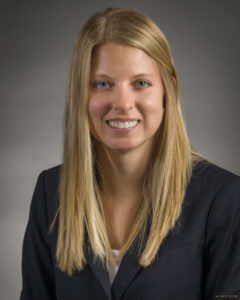 Singerman, Mills, Desberg & Kauntz Co., L.P.A., is pleased to announce that Jacqueline A. Hoelting-Van De Merwe has become a principal of the Firm. Jackie first joined the Firm as a law clerk and "rose through the ranks", becoming an associate and now a principal. Her strong work ethic and dedication to her clients has contributed to her success in the field of real estate, recently being named a Rising Star for 2023 by Ohio Super Lawyers. Jackie's practice focuses on all aspects of purchasing, selling, leasing, and financing of real estate.
Jackie received her B.S. in Business Administration, magna cum laude, from the University of Dayton in 2010, and earned her J.D. degree, summa cum laude, from Cleveland State University College of Law in 2013.
Jackie can be reached by email at [email protected] or by telephone at (216) 292-5807.