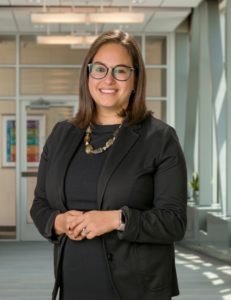 Singerman, Mills, Desberg & Kauntz Co., L.P.A. is pleased to announce that Abbie R. Pappas has joined the firm as an associate attorney. Prior to joining the firm, Ms. Pappas was an associate at the New York, New York firms of McDermott Will & Emery LLP and Patterson Belknap Webb & Tyler LLP. She has experience in both domestic and international tax and estate planning and is licensed to practice law in both Ohio and New York.
Ms. Pappas works closely with her clients in order to develop an estate plan appropriate for all their needs and objectives. She provides counsel on the use of wills and trusts, gift planning, lifetime and post-mortem tax planning, living wills, powers of attorney, as well as estate administration.
Ms. Pappas has also lectured on charitable tax planning and has served as pro bono counsel for many nonprofit organizations. Ms. Pappas is a member of the Estate Planning Council of Cleveland and has a strong educational background. Receiving her B.A. from The Ohio State University Honors Program in 2010, she graduated summa cum laude and Phi Beta Kappa. She then earned her J.D. degree from Columbia University in 2013 where she was the Executive Editor of the Columbia Journal of Tax Law. You can reach Ms. Pappas by email at [email protected] or by telephone at (216) 292-5807.